Al Smith Jr
Owner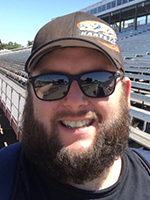 Racing Background – Al got into racing watching his dad race in the 4 cylinder division at Albany-Saratoga Speedway and at Devil's Bowl Speedway. He's always been a short track racing fan going to races and doing everything at a race track besides head flagging. Al had a brief 3 year driving career in go karts where he won back-to-back races on September 11th 2011. Recently, he's been head scorer of the NYDKS.
Sim Racing Background – Smith got into iRacing in 2012 after seeing an ad for it and talking to some iRacers and was instantly hooked. In 2013 he started the Upstate Racing League. This fall the URL Pro Series will begin it's 8th season. Al is a dirt racing enthusiast and is the driving force behind URL's Sunday night Sprint series. He appears in various other leagues when his schedule allows, including Wednesday night's on MaxSpeedTV with Racing For A Cause.
Justin MacDuff
Admin/Sr Editor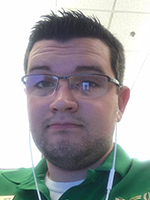 Racing Background – Justin grew up around racing, following his uncle who raced Hobby Stocks at Albany-Saratoga Speedway in New York and Devil's Bowl Speedway in Vermont. His connection to NASCAR grew through family. He would go to his grandparents every Sunday to watch the NASCAR race with them and was a big Tony Stewart fan.
Sim Racing Background – MacDuff was recruited to iRacing by Al in 2014. Al and Justin had directed RC events together so when he got into iRacing it was a no brainer to bring him on as an admin. Justin also enjoy racing sprints in his spare time and is a regular on MaxSpeedTV with Racing For A Cause's Wednesday Night short track division.
AJ Hamel
Admin/Webmaster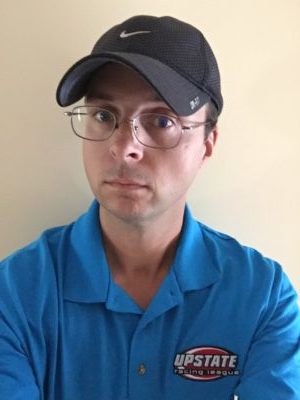 Racing Background – AJ has been a stock car fan for as long as he can remember. Starting at a young age, he followed teams his uncle worked for at short tracks in New England and Quebec. Eventually the family hobby moved south to the Busch series in the early 90's, when his uncle went to work for Steve Grissom and then Bobby Labonte, including a job as the jackman on David Green's 1994 BGN Championship team. He continues to follow Vermont short track racing as well as the Cup series.
Sim Racing Background – From Matchbox cars on a cardboard race track to iRacing, AJ has been addicted to sim racing for over 35 years. He has been online sim racing since 2002 and has served in an Admin capacity on and off for 16 years. AJ can be found racing late models at most URL events on Thursday nights and on MaxSpeedTV on Wednesday nights with Racing For A Cause.
Mike Holtsclaw
Driver's Council – Lead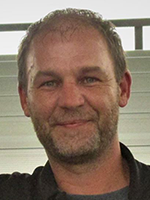 Racing Background – Mike's love of racing began at the age of 6, when he would sneak into Hickory speedway by hiding in the hauler of a team his brother Roger worked for. He later worked on a Hooters Pro Cup team owned by Alan Gustafson and Jimmy Foster that ran a few Busch series races. After that, he jumped behind the wheel and raced for about 8 years in pure 4, mod 4, and streetstocks in TN, VA, and NC. Currently, he does motorsports photography for Onpitroad.com.
Sim Racing Background – Mike got into iRacing in 2014 after trying it out at Roger's house. He's been hooked ever since. He found the Upstate Racing League in 2015 and we are now stuck with him. Or, more likely, he is stuck with us. Mike is at every URL event his schedule will allow.
Brian Rogers Jr
Driver's Council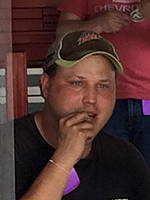 Racing Background – Brian started running 4 cylinders he graduated from high school. He raced them for two years and then moved up to the 8 cylinder Renegades division. Rogers ran renegades for five years, including a track championship at Airborne Speedway in 2007.
Sim Racing Background – Brian learned about iRacing from a friend, joining in 2012. Brian has been a fixture at URL events since he joined in 2014.He is entering his 5th Pro series this fall.
Jim McIntyre Jr
Driver's Council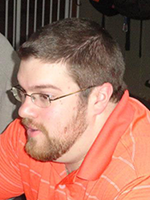 Racing Background – Jim became a fan of auto racing at a young age, with his favorite driver being Dale Earnhardt. He got involved with his father and uncle's 4 cylinder Sport Compact Series at their local track Adirondack International Speedway from '04-'05. He still prefers short track racing over anything else.
Sim Racing Background – Jim discovered iRacing while watching YouTube videos and joined in December 2014. He fooled around with iRacing sanctioned races but was unhappy with the level of racing. He stumbled upon the URL while searching for a good league to join. After watching a few URL races,, he knew this is what he was looking for! Good hard, clean, short track racing. He joined in 2016 and ran in his first Pro series. Jim is another URL diehard who can be found nearly anywhere the URL puts on a show.