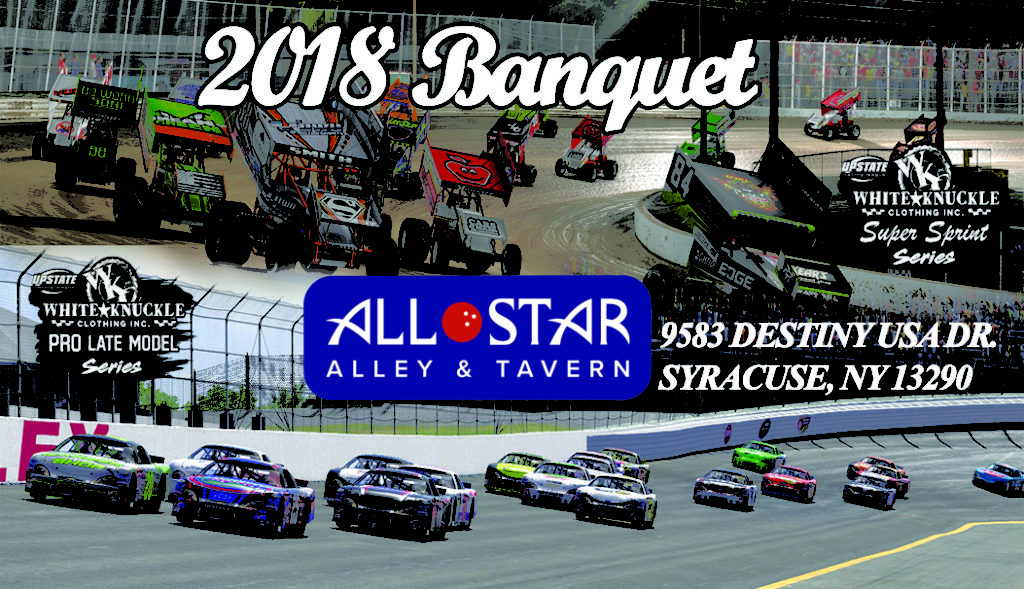 We are excited to announce the details for our second annual banquet being held on April 21st at the All Star Alley & Tavern in Syracuse, New York at 1 PM EST.  This event will honor our UMP Home Track Series Champion, Super Sprint Series Champion and our Pro Late Model Series Champion all brought to us courtesy of White Knuckle Clothing Inc.  There will be games and door prizes and those who attended last year's banquet can tell you that you won't leave empty handed!
We will also be doing a 50/50 raffle with prizes including an Upstate Racing League iFlag, shirt, and entry into next years Pro Series. Tickets will be 1 for $1 3 for $2 and 6 for $5 and Al's Arm Length for $10. To purchase a ticket use the following link paypal.me/upstateracingleague
Prizes for 50/50
1. Cash Prize
2. 1 Entry Fee for any URL Series ($15 value)
3. URL T-Shirt
Also, there will be an exciting announcement at the banquet regarding next season for both Asphalt and Dirt Competitors that you won't want to miss!

To purchase your ticket for the banquet please click the link provided PayPal.me/upstateracingleague/25 If you want to bring a guest please do! Each ticket is $25.00
The menu:
Food:
– Veggie Platter
– Buffalo Wings
– Cheeseburger Sliders – Cheddar, 1000 Island, Pickles, Caramelized Onions
– Pretzel Bites & Fondue
– Chicken Quesadilla – Grilled Onions and Peppers, Marinated Chicken, Cheddar Jack, Sour Cream
Drinks:
– Unlimited Water and Soda
– Cash Bar for those who want alcohol
Door Prizes:
White Knuckle Clothing Inc.
– Shirts
– Hats
– Koozies
Beth's Colorful Creations
– Cake Pops
Upstate Racing League
– Pens
– Candy
– iRacing Die Cast Car
– Other Surprises
OnPitRoad.com
– Hats
Sim Speed Shop
– Shirts
– Hats
The Button Box Shop
– Gift Certificate
Devils Bowl Speedway – West Haven VT
– 2 General Admission Tickets to a regular event in 2018
– 2 General Admission Tickets to a regular event in 2018
Plus others!